PULASKI COUNTY, Ark. -- The Pulaski County Special School District Board of Education awarded the third quarter Inspiration in Education award for the 2021-2022 school year at its board meeting on March 8, 2022.
The third installment of this school year's Inspiration in Education award was presented to Erikka Johnson, interim principal at Harris Elementary. There were more than 30 PCSSD employees among the nominations for this third quarter award with 18 employees receiving votes.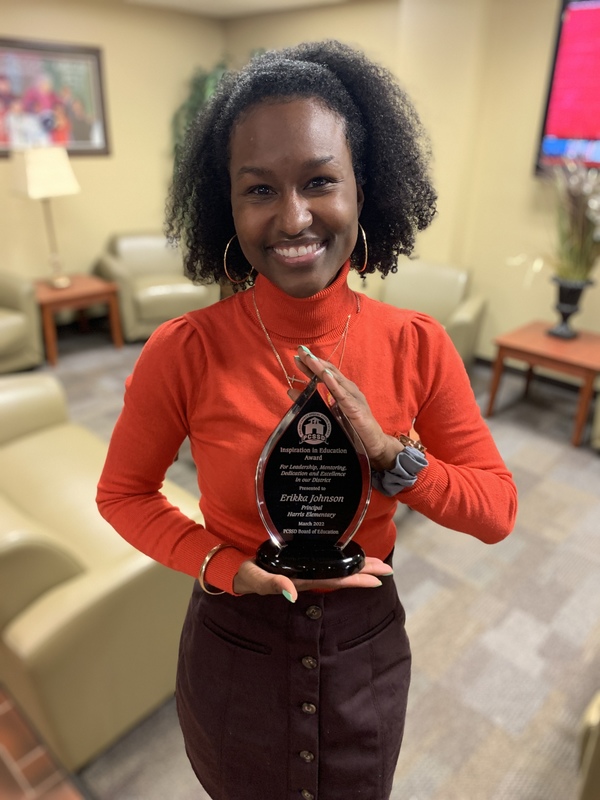 Johnson stepped in mid-school year to assist with principal duties at Harris Elementary and quickly assumed the role of interim principal. As her peers claim, she is the "epitome of great leadership."
"She leads by example and she has raised the bar on working in the spirit of excellence amongst staff and students," said Latanya Settles, a teacher at Harris Elementary. "Her nurturing, yet assertive approach allows the scholars to open up to her, trust her and strive toward excellence."
The Board of Education created the Inspiration in Education award to honor certified and support staff members who are inspirational to their students or colleagues in their roles at PCSSD. Additionally, the award recognizes employees who exhibit traits including leadership, mentoring, dedication, excellence and effectiveness in their places of work.
Johnson previously served as an assistant principal at Sylvan Hills Middle School in the 2020-2021 school year as well as the beginning of this school year. When asked to move schools and help with elementary students, Johnson quickly adapted to the change.
"Her ability to connect to the scholars, parents and staff is to be commended, '' Settles added. "She is fair, she leads with integrity and because of her leadership, Harris Elementary is on a path to academic excellence!"
The Inspiration in Education award is presented to the winner quarterly in October, December, February and May. Anyone may nominate a PCSSD employee for the award. The applications are reviewed by the Superintendent's Cabinet for ranking, and the highest scorer is named the quarterly winner and receives the award from the PCSSD Board of Education.